Content distribution channels are the backbone of customer engagement. Managing multiple channels individually can be challenging and time-consuming. Sitecore Content Hub can act as a centralized Multichannel marketing hub that can prove invaluable to organizations looking to optimize content operations and management. Producing content quickly can be the key to accelerating content delivery. Enabling multi-channel accelerated content delivery capability can give a competitive edge to businesses in a competitive industry. This capability requires strategic alignment and content modeling focused on business goals.
in the pre-covid years, a rapid expansion in personalization was already underway. Now the customer expectation for connected experiences (both online and offline) has been growing faster than ever. One way to fulfill this growing need is leveraging a centralized multi-channel content delivery platform. Leading brands are finding ways to fulfill this need in innovative ways such as through atomic content framework implementation, AI-generated content, and real-time 1:1 dynamic promotions.
There can be many different ways content can be modeled to serve the primary goal/purpose of an organization. To create a content model it is essential to understand the intent behind it. as described in this post it is necessary to ask the right questions in order to deliver contextually relevant experiences on complex customer journeys.
Content Modeling Framework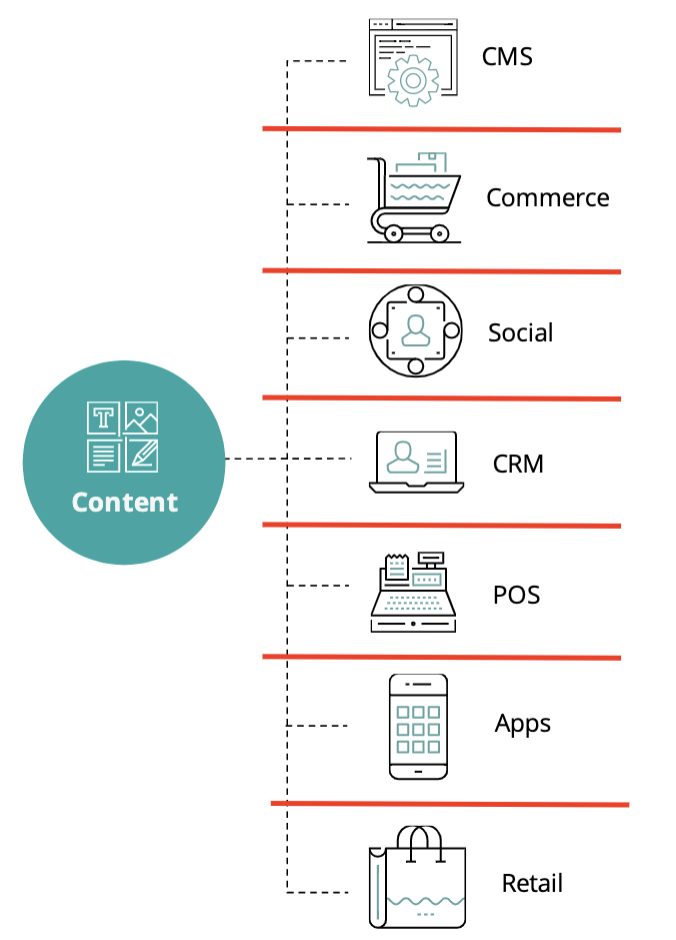 Take content out of channels. Think channel-agnostic. Focus on the touchpoint.
Gather an inventory of product, asset, and content types being delivered by each existing channel and any planned marketing/delivery channels in the future. At this stage the more information we have is better. Connecting with various departments is required in order to get accurate information.
Pull the Content Apart and group similar content/data together. Identifying commonalities and understanding the process is important at this step. During this step one might also come across interesting ways and tools that different departments and users are currently leveraging. It is good to map out the current processes and then chart the course further.
Create uniform structure for each Content and map to one another. by identifying the commonalities we can now create a uniform templates for each content types that can be used across departments/channels. This step also provides an opportunity to identify gaps in content being delivered currently and opportunities to add more content types and map them to each other universally.
Map content back to channel. Once a uniform template is created for each channel content is now ready to be delivered in a more reusable fashion across channels. Users no longer need to create channel specific content. The content and channels now being decoupled can be managed independently as well. This provides an opportunity to optimize resources, content operations and deliver all at the same time. Once Successfully executed substantial operational efficiencies can be achieved.
During the last step when following the framework. The most common and time consuming channel can be the one where most content exists and most users engage. If that is a CMS/web channel marketers can use this great Miroverse board for Content Modeling by Contentful that can give a head start when planning for web content modeling.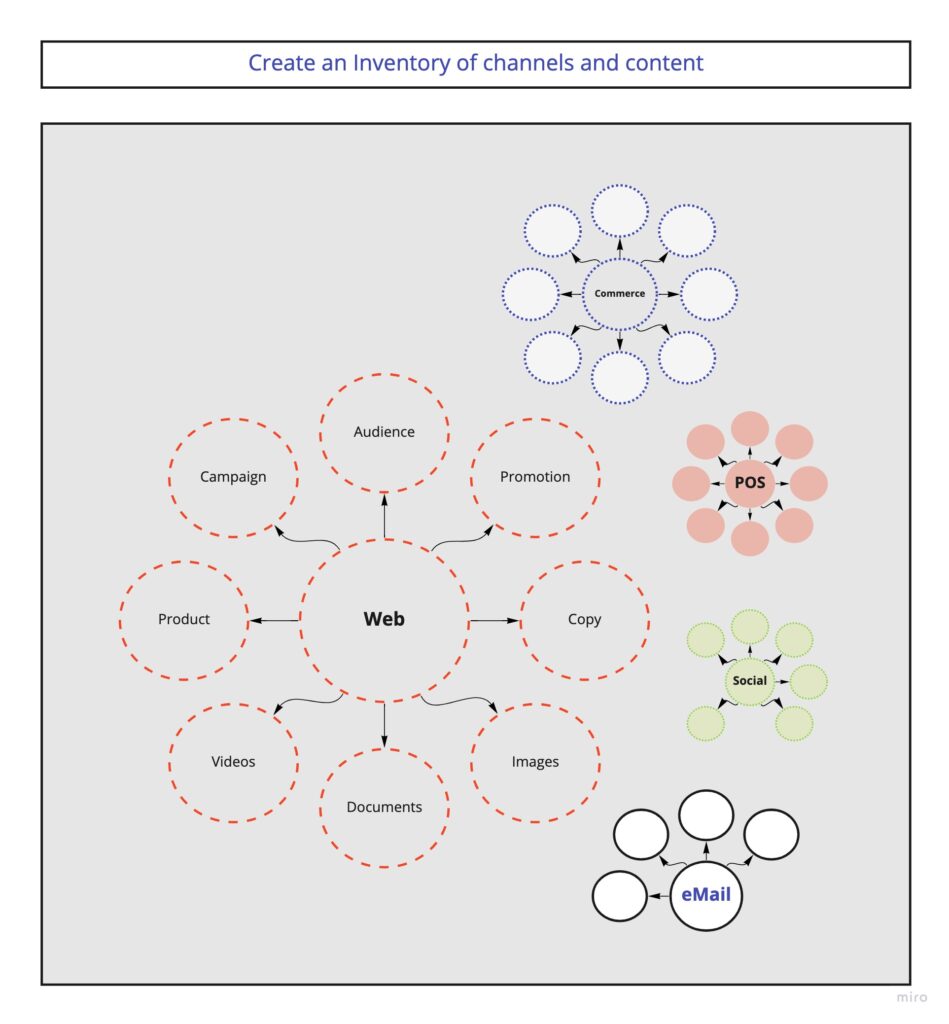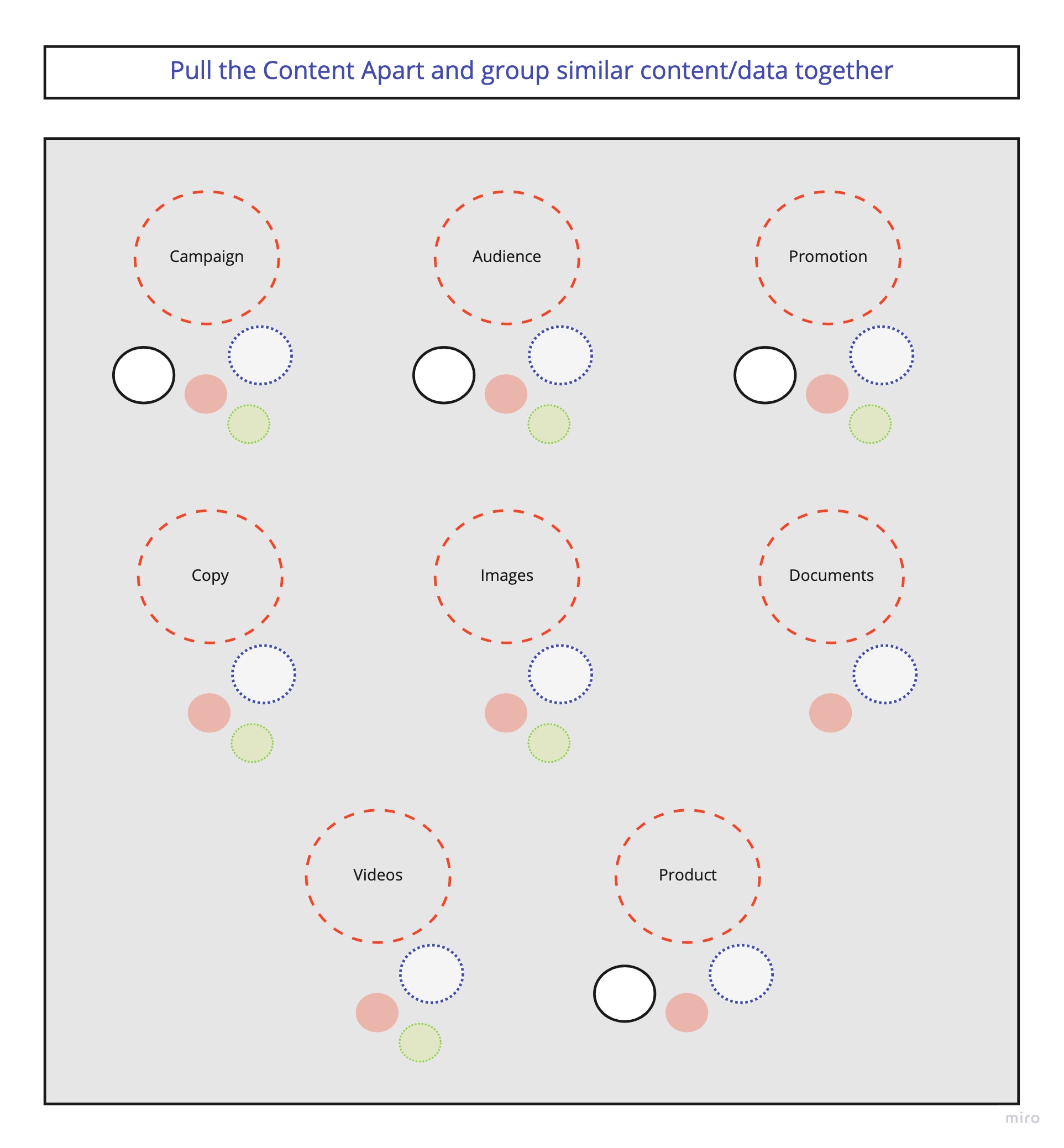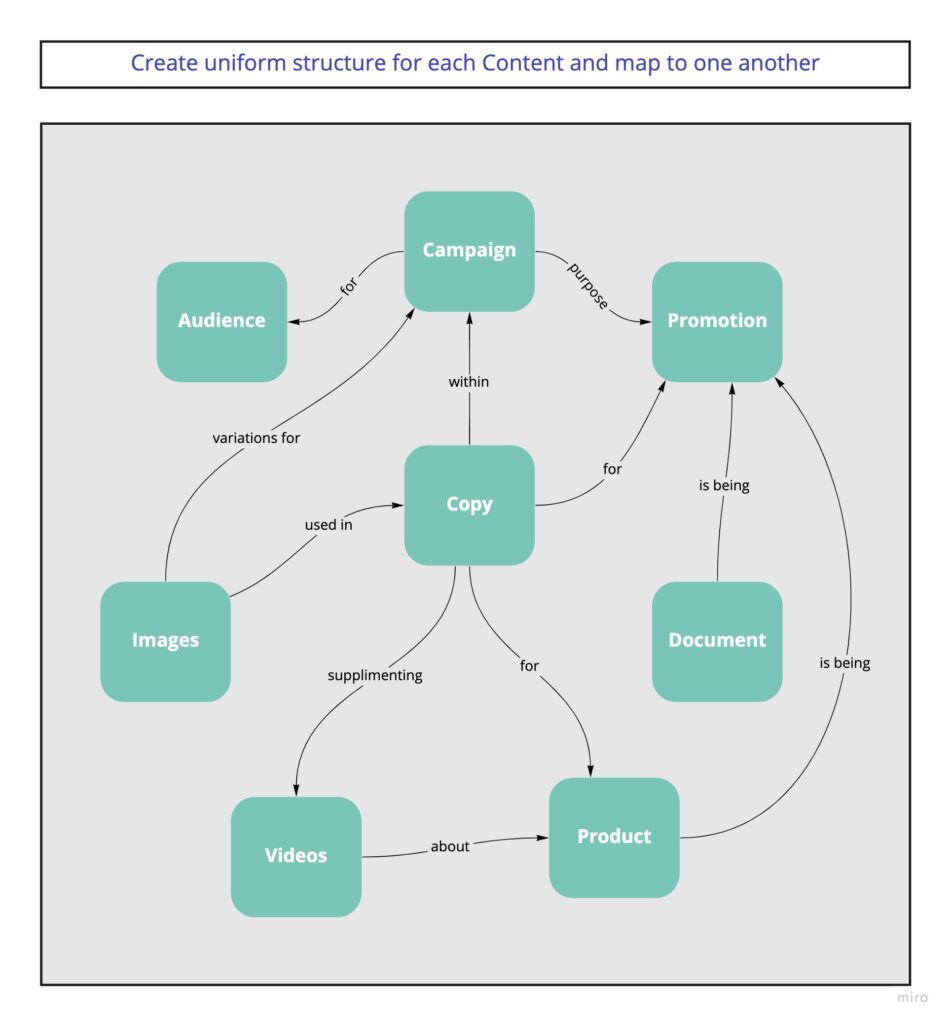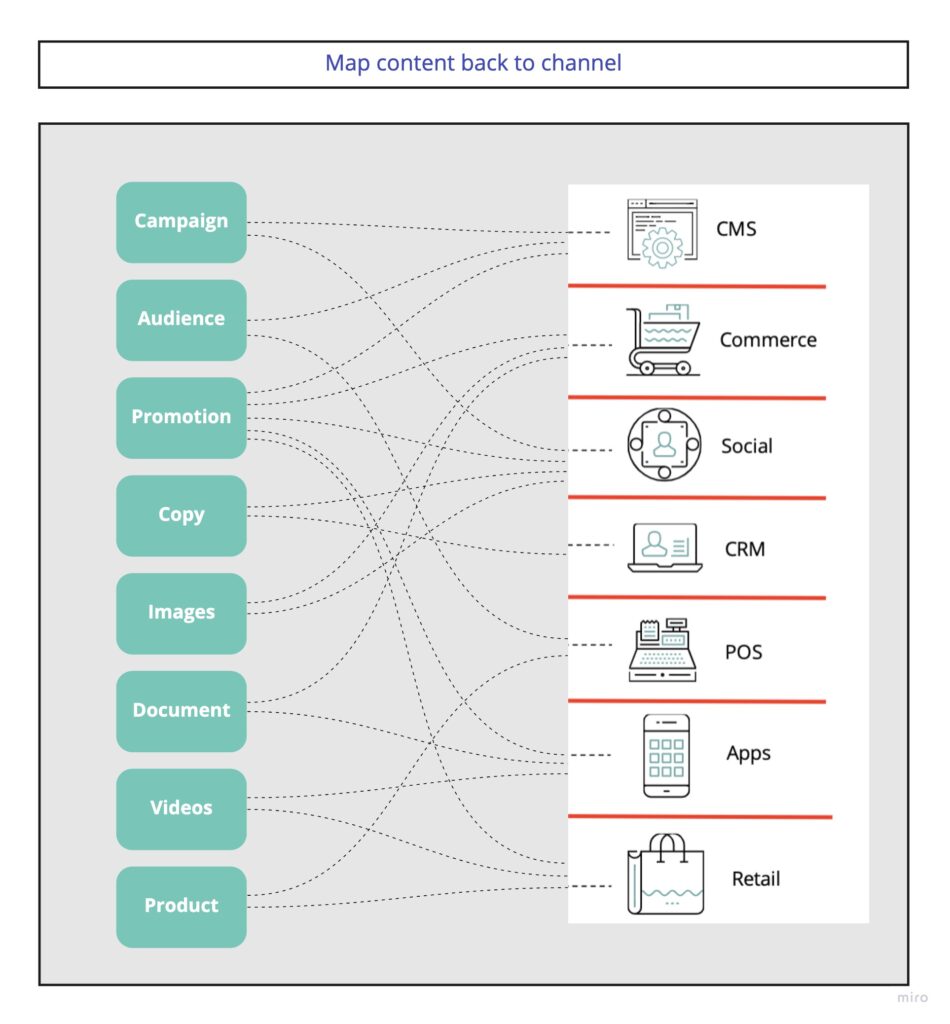 WHY SITECORE CONTENT HUB?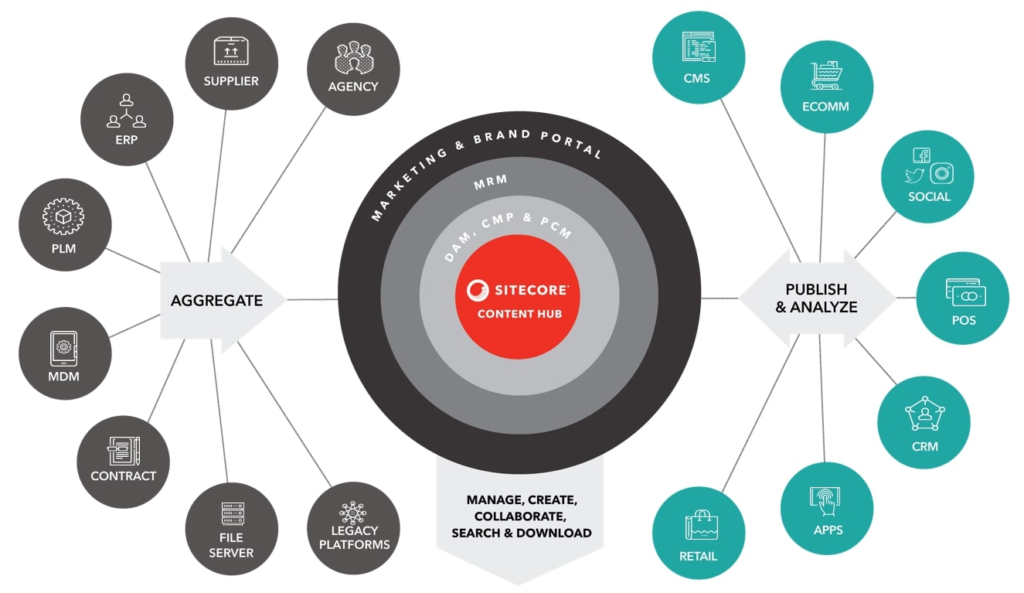 Sitecore Content Hub™ brings together powerful cloud-based technology to centralize content planning, creation, collaboration, management, and distribution. Content Hub not only streamlines the process of creating and distributing content but also improves the consistency of delivered experiences by eliminating duplicate work and increasing opportunities for content reuse.
Sitecore Content Hub offers multiple modules:
Digital Asset Management (DAM) to Centralize photos, layouts, artwork, video, 3D, source files, and more.
Product Content Management (PCM) to Centralize and automate the management and maintenance of all your customer-facing brand/product content.
Content Marketing Platform (CMP) to Plan, Manage and collaborate effectively on your content strategies.
Marketing Resource Management (MRM) to Streamline collaboration between various internal and external teams.
Web-to-Print to Create and control central customizable templates.
The content hub provides content management that can be tied to various channels and audiences and this is a great option for content-focused content modeling strategies.
Looking for a product-focused framework for content modeling? refer to my previous blogpost Product Focused content modeling