A Content Model gives us a standard way of creating, managing, and publishing modular content. As organizations are looking forward to delivering consistent and fast-to-market customer experiences it is increasingly becoming more important to have a Content Modeling framework.
Companies are really publishers and can benefit from a content supply chain. A content supply chain is not linear, it's highly iterative and cyclical.

McKinsey
To create a content model it is essential to understand the intent behind it. A great way to gather intent is to have clarity around the following questions :
Who is creating the content?


Example

– Internal, Vendors, Purchased, Writers, etc.

Are various departments within the organization sharing/reusing content?
Example – organizational logos, blogs, articles, etc.

Who is the content being created for? The audience, Personas?


Example

– Internal, External, Customers, Consumers, etc.

Where is the content going to surface? Delivery/Presentation Channels?


Example

– Web, Mobile, Social, etc.
Once we have the information summarized around the 5 W's: What (content-type) | Who (audience) | Where (channel account and region) | When (date, frequency) | Why (brief) we can start strategizing and devising a framework for content modeling.
Content Modeling Framework
Product-focused modeling is generally centered around e-commerce first businesses. Utilizing this approach is more suitable when the primary need is to have a PIM system for storing all product-related metadata.
Start with Generating a list of Products and understanding the landscape. Do you have bundles? Variants? Recommendations?
If you do not have existing relationships, do you want to build them in the future?
Building upon products start defining content around products and create atomic content that can be reused contextually.
It is important to understand the product is of primary importance and thus every piece of content must absolutely be mapped to a product ultimately. This ensures easy search capabilities as the number of content items increases.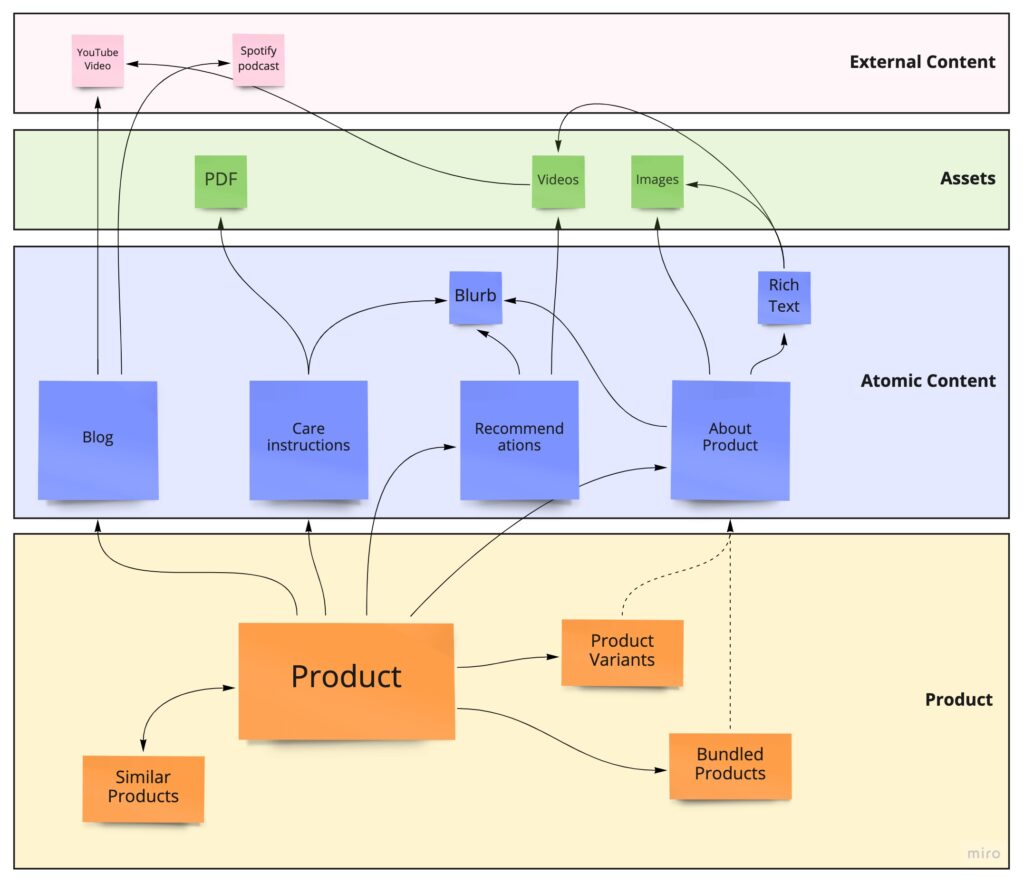 Content then can be broken down into parts that can be managed individually by separate teams. For example:
The marketing team focuses on Blogs and outreach.
The product team focuses on documenting technical details and how-to guides.
Customer success team creating content around product FAQs
Creating content around departments is extremely helpful and built around the source of truth provided by the product team for example.
Once we create a content model it is extremely important that we select the right tool that can fulfill our content modeling needs. As the organization and products evolve the platform should be able to support and integrate various upstream and downstream channels. Sitecore Content Hub thus becomes a great choice for Content Editors, Product Managers, and Marketing to collaborate seamlessly in one single tool without juggling 10 different products.
Why Sitecore Content Hub?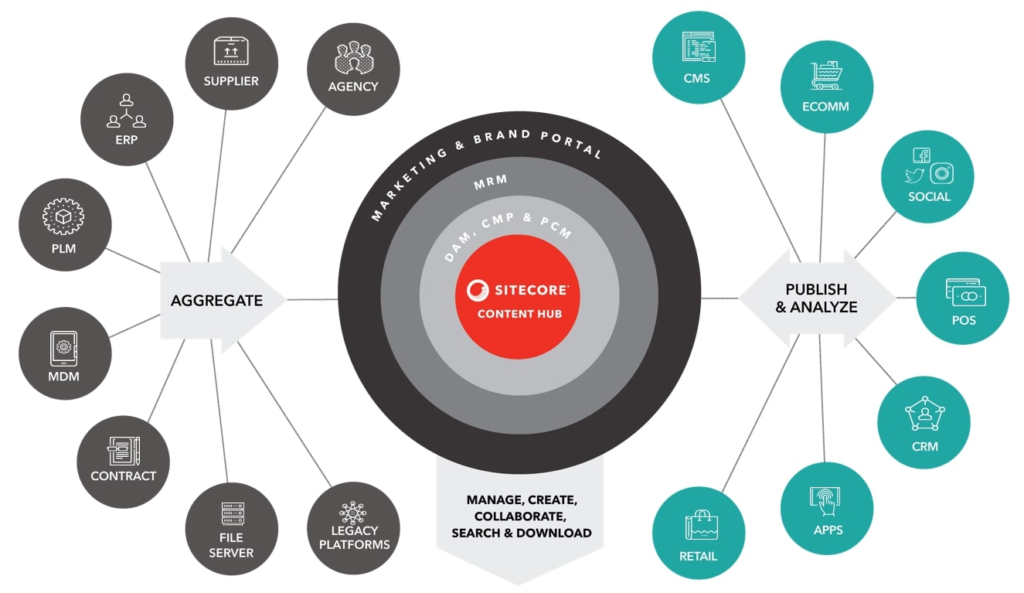 Sitecore Content Hub™ brings together powerful cloud-based technology to centralize content planning, creation, collaboration, management, and distribution. Content Hub not only streamlines the process of creating and distributing content but also improves the consistency of delivered experiences by eliminating duplicate work and increasing opportunities for content reuse.
Sitecore Content Hub offers multiple modules:
Digital Asset Management (DAM) to Centralize photos, layouts, artwork, video, 3D, source files, and more.
Product Content Management (PCM) to Centralize and automate the management and maintenance of all your customer-facing brand/product content.
Content Marketing Platform (CMP) to Plan, Manage and collaborate effectively on your content strategies.
Marketing Resource Management (MRM) to Streamline collaboration between various internal and external teams.
Web-to-Print to Create and control central customizable templates.
Content hub provides product and content modules that are interlinked to each other and thus is a great option for product focused content modeling strategies.